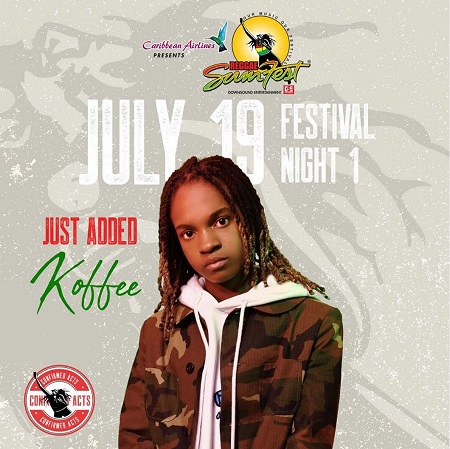 Teen sensation Mikayla Simpson aka KOFFEE is joining the five rostered females of the 2019 Reggae Sumfest. The 19-year-old, who is scheduled to perform on Night 1 at the festival, first broke the news during an interview on Hot 97 FM last month, and festival principal Joe Bogdanovich is confirming same:
She's coming to Reggae Sumfest and I believe that she is. I think that she's gonna bring some toast with her Koffee as well, and I think she's gonna be fabulous. She is excited.
In less than a year, fans have become spellbound by the Spanish Town resident and her refreshing take on new-age reggae, fusing family-friendly lyrics and pulsating beats in records like Toast, Rapture and the dub-inspired Raggamuffin.
The other females on the line-up are reggae singers Etana and Jah9, queen of the stage Spice, and Sumfest newbies Dovey Magnum and Shauna Controlla. Bogdanovich says that the ladies were selected based on their musical versatility, demand and availability. In boosting the festival experience, Bogdanovich said several events have been refined on the calendar:
The festival of Reggae Sumfest is something that has a lot of entertainment and brings different demographics and different purposes. For example, when we have a seminar about music and about getting involved in the industry, that's been tried before, but the way we are doing it makes it more interesting and more dynamic. It's not just about music too, there are other things people are interested in, like the Get Social Awards that happened on Saturday night, which was good. We're just raising the bar to be right there with the best music festivals in the world and that is why we chose the females we have on the festival.
Reggae Sumfest will be staged in Montego Bay, St James, from July 14 to 20. Over seven days, more than 40 of reggae and dancehall's most celebrated performers will take the Reggae Sumfest stage at Catherine Hall and other venues across the second city.