Blessed Love, One and All. This Week in Reggae: RITA MARLEY makes first public appearance since stroke. BUJU BANTON readies himself for first show post-prison as he kicks off the "Long Road to Freedom Tour" this week. BOUNTY KILLER accepts fans' dubbing him "The Bob Marley of Dancehall", DJ FRASS disses VYBZ KARTEL, Dancehall Artist KALIBA Shot Dead In Kingston, The Kings of Dancehall defends the King of Pop, SPICE releases two videos for her new song "Genie", Producer RVSSIAN gifts SHENSEEA with Diamond Rolex, LEE 'SCRATCH' PERRY asks fans not to give him weed anymore and the online feud between D'ANGEL and SPICE heats up.
– A Likkle Labrish –
RITA MARLEY'S FIRST APPEARANCE SINCE STROKE

RITA MARLEY made her first public appearance since her stroke in September 2016, as she joined her I-Threes sisters, Marcia Griffiths, and Judy Mowatt at the 2019 Jamaica Reggae Industry Association (JaRIA) award ceremony. The singers were awarded the Iconic Award for a duo/group.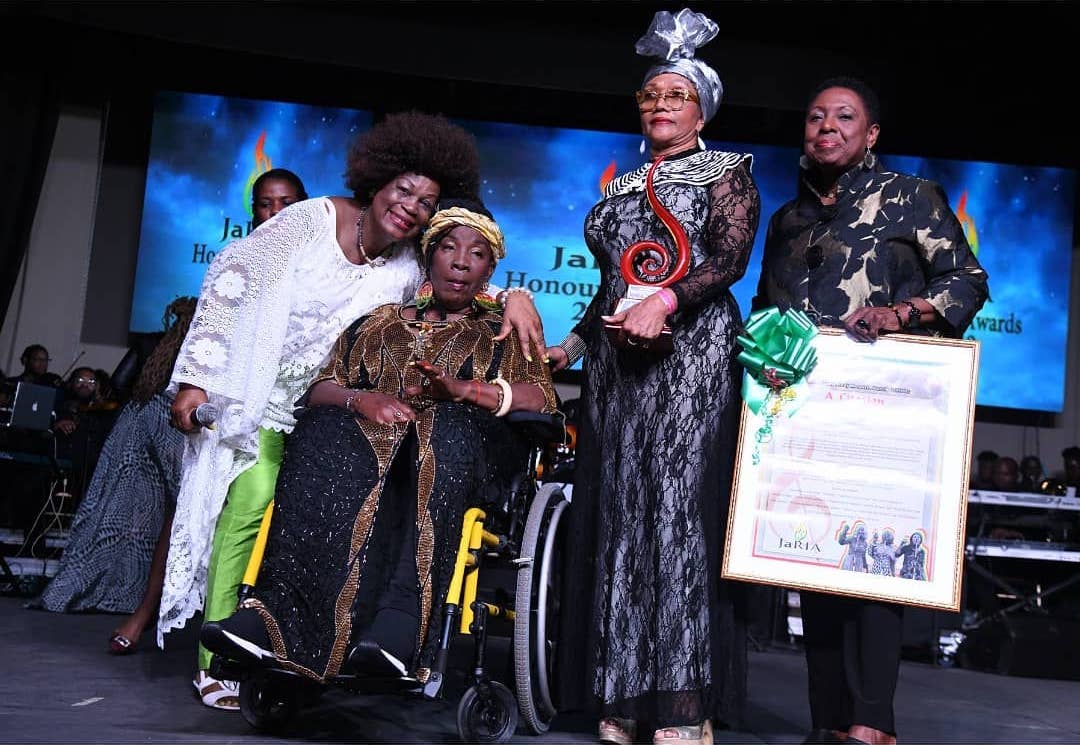 BUJU KICKS OFF "LONG ROAD TO FREEDOM TOUR"
Ronnie Tomlinson, Buju Banton's publicist, told reporters that there has been an overwhelming response to Buju's first Jamaican post-prison show, March 16 at Kingston's National Stadium. It is his first performance in Jamaica since 2011. She said:
It's an event that you do not want to miss. This show is a part of history in our culture. For so long, we've been hash-tagging 'Free Buju Banton' wanting him to be home and now he's here, we're going to give him the best celebration and welcome we know how to. He's very ready to perform for us, to talk to us and just say thank you to each and everyone of his supporters. Rehearsals have been going well. All his friends are looking forward to joining him on this historic show. It's just all building up really nicely at the moment.
BOUNTY KILLER – "THE BOB MARLEY OF DANCEHALL MUSIC"
A loyal fan wrote on Instagram that Bounty Killer was The Bob Marley of Dancehall and Grunggaadzilla agreed:
Bounty Killer has been a force for decades putting dancehall music on the map outside of Jamaica and also making a large body of crossover hits with artists like Busta Rhymes, Fugees, No Doubt, Mobb Deep etc. He also brought to the fore some of dancehall's biggest names such as Vybz Kartel, Elephant Man, Busy Signal and Mavado to name a few.
Despite this great body of work and influence, he does not garner the respect warranted from the current generation of dancehall artists. At the moment, there is friction between him and Mavado and the strained relationship with Vybz Kartel was only recently patched after years of feuding.
DJ FRASS DISRESPECTS VYBZ KARTEL
Kimani Palmer, aka DJ Frass, hit producer for Alkaline and Mavado, came out on Twitter insinuating that Vybz Kartel is not the "King of Dancehall."
He joined several dancehall luminaries, including Beenie Man, to voice his dissent when a mainstream Fox 5 News referred to Kartel as the king of the genre.
"King me Rass clath a Mussi , Peter king," he tweeted. While not expressly naming Vybz Kartel in the post, the insinuation is clear.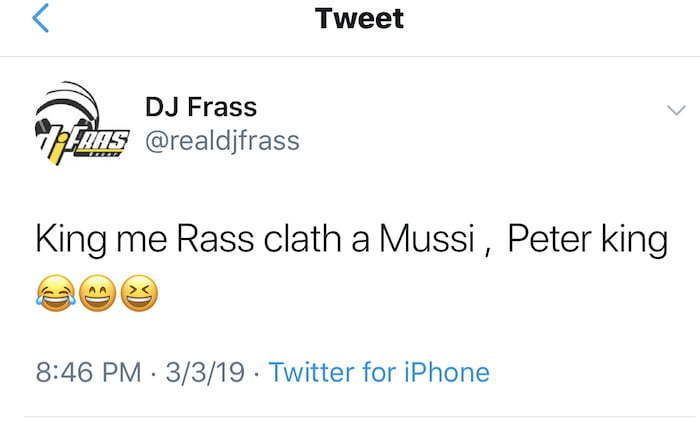 DANCEHALL ARTIST KALIBA SHOT DEAD IN KINGSTON
Fast-rising dancehall DJ Kaliba, whose real name is Jayvon Francis, was shot dead along with another victim identified by police as Ishmael 'Pops' Golbourne this past Friday in the Maxfield Avenue area as gun violence continues to plague Jamaica. The shooting took place at approximately 3:45 p.m. on Bertram Lane, Kingston 13.
According to the police report, the two victims were sitting on the side of the road when a car pulled up and three armed individuals exited the vehicle and opened fire on the men who received multiple gunshot wounds and died on the scene.
The police investigation is operating from the view that Francis and Golbourne's killing is a retaliatory event or linked to another shooting incident earlier that day. A police spokesman said "A man from the community was killed outside of the community earlier last Friday, and this double murder may be linked to his murder. Warring factions have been at odds for some time. We are still conducting our assessment."
Kaliba is known for songs like "Do Road Fi Di Paper" and "Inna Dem Ya Time Ya"
KINGS OF DANCEHALL DEFEND THE KING OF POP
Bounty Killer and Vybz Kartel speak out in support of Michael Jackson after "Leaving Neverland" fallout.
Following the HBO documentary "Leaving Neverland" and Oprah Winfrey's ensuing "After Neverland" interview about Michael Jackson's alleged sexual abuse against children, radio stations have began boycotting his music, and the animated series "The Simpsons" has pulled an episode featuring Michael Jackson.
BOUNTY KILLER took to social media to defend Michael Jackson and chastise the critics for ignoring that MJ was never found guilty of any crimes:
Salute to the greatest artiste of all generation 750,000,000 albums sold donated over 300,000,000 to charities worldwide Thriller is the biggest selling album of all times over 100,000,000 copies sold: THEY DRAGGED HIM FROM NEVERLAND TO NETHERLANDS ON 14 COUNTS OF CHILD ABUSE AND HE WALKED AWAY FREE IF HE WAS GUILTY ON ONE COUNT Y'ALL THINK HE 'D WALK FREE
VYBZ KARTEL also took to social media, posting a clip of Robin Roberts reporting on Michael Jackson case:
Nobody cares about the #TRUTH when the #ACCUSATION IS MORE #ENTERTAINING
There are other celebrities who voice their support of Michael Jackson, such as rapper T.I. who said that the new documentary is part of a broader plot to destroy the culture and one of our greatest legends.
There are also a large number of celebrities who say they watched the documentary and found it to be sickening. Singer John Legend said in a recent interview that it was extremely hard to watch.
SPICE RELEASES TWO VIDEOS FOR "GENIE"
Grace Latoya Hamilton aka SPICE takes the artistic step of releasing two videos for her new hit song "Genie". The videos were directed by Xtreme Arts and Spice herself.
Video one plays off the story of Aladdin with the magic lamp: a man walking on the beach with his girlfriend sees a shiny object in the sand which turns out to be a magic lamp. After rubbing it, Spice and her dancers emerges and starts seducing the man.
In video two, Spice showcases her twerking skills alongside her female dancers.
The single "Genie" is featured on Spice's new mixtape "Captured", now available on all streaming platforms.
PRODUCER RVSSIAN GIFTS SHENSEEA ROLEX
Jamaican producer Tarik Johnston aka "RVSSIAN" bestowed a lavish gift to Dancehall Diva SHENSEEA. Shenseea wrote on her Instagram:
Si weh hard work do!? me BLESSED and too GRATEFUL fi roll vex, now me a get rolex and big cheques thanks @rvssian
Rvissian and Shenseea are currently working on a new project together through the producer's record label, Head Concussion Records. They previously collaborated on the single "Hard Drive" featuring Konshens and "Best NaNa" with King Kosa.
LEE 'SCRATCH' PERRY TELLS FANS NO MORE WEED
Iconic Reggae genius Lee 'Scratch' Perry asked fans to stop offering him marijuana as a gift after his live performances but rather get him mirrors for him to decorate his outfits with. He posted his request on Twitter:
AS YOU KNOW YOU CAN ALWAYS MEET ME BACKSTAGE AFTER THE SHOW, BUT PLEASE DON'T BRING ME ANY GREENS! I USED TO STASH IT SOMEWHERE, FORGET AND HAD PROBLEMS BY COSTOMS! BETTER BRING ME LITTLE MIRRORS THAT I ALWAYS USE FOR DECORATING MY OUTFITS! HAPPY TO SEE YOU ALL SOON!
Perry was a habitual marijuana smoker until 2014 when he revealed that he had stopped smoking. As Reggae In Seattle has reported previously, Perry is scheduled to release his next album 'Rainford' on May 11, alongside his long-time collaborator and friend Adrian Sherwood.
FEUD BETWEEN SPICE AND D'ANGEL HEATS UP
BEENIE MAN's ex-wife Deejay D'ANGEL threw further shots in the online feud between her and Dancehall Diva SPICE by outing Spice as undercover gay.
Mi Angie Nuh Rub Crotches! F***ing Under Cover Sadomite Cum Out Cum Tell Di Worl That Yuh Kiss Girls And You Like It," D'Angel wrote. "Mi Love When Di Gay People Dem Come Out LOUD AND PROUD Unlike Yuh…. While Yuh At It Getting Yuh Liposuction Doh Figget Fi Mek Dem S**k Out Yuh Front Weh BIGGG Like Pickney Pampers Weh Nuh Change Fi Dayzzz… Hey Gyal A Who Yuh?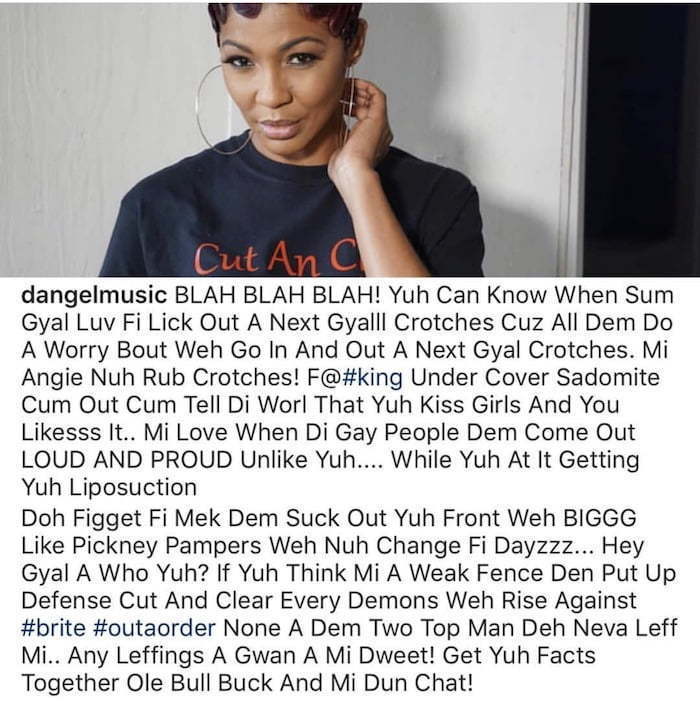 In plain English, D'Angel accuses Spice of being a longtime undercover lesbian and that she should just come out the closest.
Spice has never claimed to be gay and she is the biological mother of two kids.  She fired back saying that Bounty Killer and Beenie Man dumped D'Angel.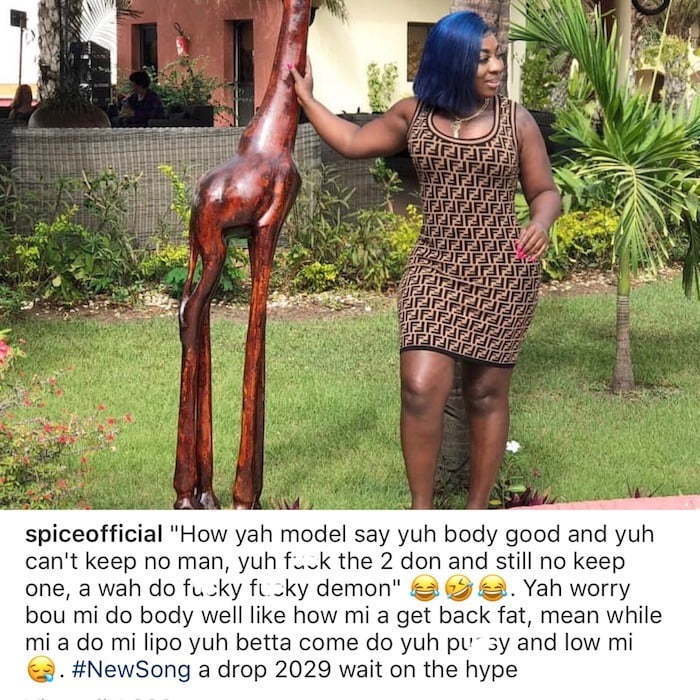 In plain English, Spice says that D'Angel had sex with the two Dons and could not keep one:
How yah model say yuh body good and yuh can't keep no man, yuh f**k the 2 don and still no keep one
– The Local Happenings –
CLINTON FEARON and the Boogie Brown Band played Nectar Lounge this past Saturday night. Seattle, we have such a great love for this local Jamaican who regularly performs, always sells out, and never disappoints.
Wow!! This week has been crazy when it comes to the local happenings and announcements. Firstly, June is going to be all the way live. JUST ANNOUNCED we're going to have key performances by Jamaican reggae and dancehall artists Kranium along with Jada Kingdom performing at Nectar Lounge on Friday, June 7th and Konshens performing at the Red Lounge on Saturday, June 8th. This is their first time playing in Seattle. Trust me when I tell you that Konshens is going to give a great show. I've seen in him perform twice in the past few years and he always brings the fiyah. So get ready to turn up, and as Tarrus Riley say, "when you lag you lose," so you better get those tickets before they sell out.
Also in NEW ANNOUNCEMENTS Jah Bouks will be performing at the Red Lounge on Saturday, April 6th. And, the legendary British Reggae band that is STEEL PULSE is going to play at The Showbox on Tuesday, April 9th. Steel Pulse has new music, and the show is sure to sell out. Tickets are on sale now!
DON'T FORGET Black Uhuru on this upcoming Tuesday, March 19th at Nectar Lounge, along with Onesty, and Dub Lounge International. Another legendary Grammy Award winner blessing up Seattle with a live performance.
DJ Element will be spinning at Players Sports Bar on Sunday, March 17th for Reggae Sundays. He brings his Monday Night #JamJam to Des Moines.
EVERY MONDAY Zions Gate Sound has the Monday Night #JamJam at the Monkey Loft with DJ Element & guests. $10.00 after 10PM and it's 21 and over.
If you have a local reggae event, you'd like for us to include in This Week in Reggae; please contact us at info [at] reggaeinseattle [dot] com.
– New Music –
POPCAAN – UNSTOPPABLE
MR. VEGAS – KILLA BODY ft. LOS RAKAS
VYBZ KARTEL – DESIGNA VAGINA
HOOD CELEBRITYY – INSIDE
TUFF STEPPAS FEAT. DADDY JOHN – SHE IS SO NATURAL
POPCAAN – REDRESS
– Blessed Earth Strong –
This week we celebrate the Blessed Earth Strong of the following artists:
Mar 12 – Jo Mersa Marley
Mar 15 – Stephen "Grizzly" Nisbett
Mar 15 – Nadine Sutherland
Mar 16 – Mortimer Softley aka "Natural Black"
Mar 17 – Shevon Toriano Stewart aka "Hollow Point"
– This Week in Reggae Playlist –
In honor of International Women's Day, Selectah Rawleeman has put together an all-women's playlist
– Meditation of the Week –
"Some people feel the rain. Others just get wet."
– Bob Marley –
UNTIL NEXT WEEK – ONE LOVE