Blessed Love, One and All! In this installment of "This Week In Reggae": CAPLETON is exonerated of rape charges, BUJU BANTON has decided to permanently remove his infamously homophobic song "Boom Bye Bye" from his catalog. BOUNTY KILLER announces documentary on VYBZ KARTEL in the works. MUTABARUKA gets Irie FM's 2019 Lifetime Achievement Award. UB40's BRIAN TRAVERS diagnosed with multiple brain tumors. LISA HYPER and CLYMAXX fire shots on social media. STEEL PULSE to release first album in 15 years. Dancehall artist PAMPUTTAE accuses BEENIE MAN of attacking her. Montego Bay's Gloucester Avenue to be renamed in honor of JIMMY CLIFF. It is with sadness we announce the passing of the legendary guitar player and song writer WINSTON "BOPEE" BOWEN and also UK Ska-legend RANKING ROGER…
– A Likkle Labrish –
CAPLETON EXONERATED OF RAPE CHARGES
As of Wednesday, Clifton Bailey aka CAPLETON aka King Shango aka The Fireman is officially a free man as charges has been dropped in the rape case stemming from May 02, 2018. The charge was officially dismissed when Capleton appeared in the Kingston and St Andrew Parish Court with his attorney Christopher Townsend.
FULL STORY: http://reggaeinseattle.com/capleton-exonerated-of-rape-charges/
BYE BYE TO "BOOM BYE BYE"
BUJU BANTON has decided to permanently remove his infamously homophobic song "Boom Bye Bye" from his catalog. He explained that he wrote it in his teenage years in 1992 about a pedophile abusing a young boy in Jamaica and that the song has been taken widely out of context as a justification to kill gay men. The song has now been permanently been removed from all streaming services he controls and will no longer be performed on stage.
He released a statement:
In recent days there has been a great deal of press coverage about the song 'Boom Bye Bye' from my past which I long ago stopped performing and removed from any platform that I control or have influence over. I recognize that the song has caused much pain to listeners, as well as to my fans, my family and myself. After all the adversity we've been through I am determined to put this song in the past and continue moving forward as an artist and as a man. I affirm once and for all that everyone has the right to live as they so choose. In the words of the great Dennis Brown, 'Love and hate can never be friends.' I welcome everyone to my shows in a spirit of peace and love. Please come join me in that same spirit.
FULL STORY: http://reggaeinseattle.com/bye-bye-to-boom-bye-bye/
UPCOMING VYZ KARTEL DOCUMENTARY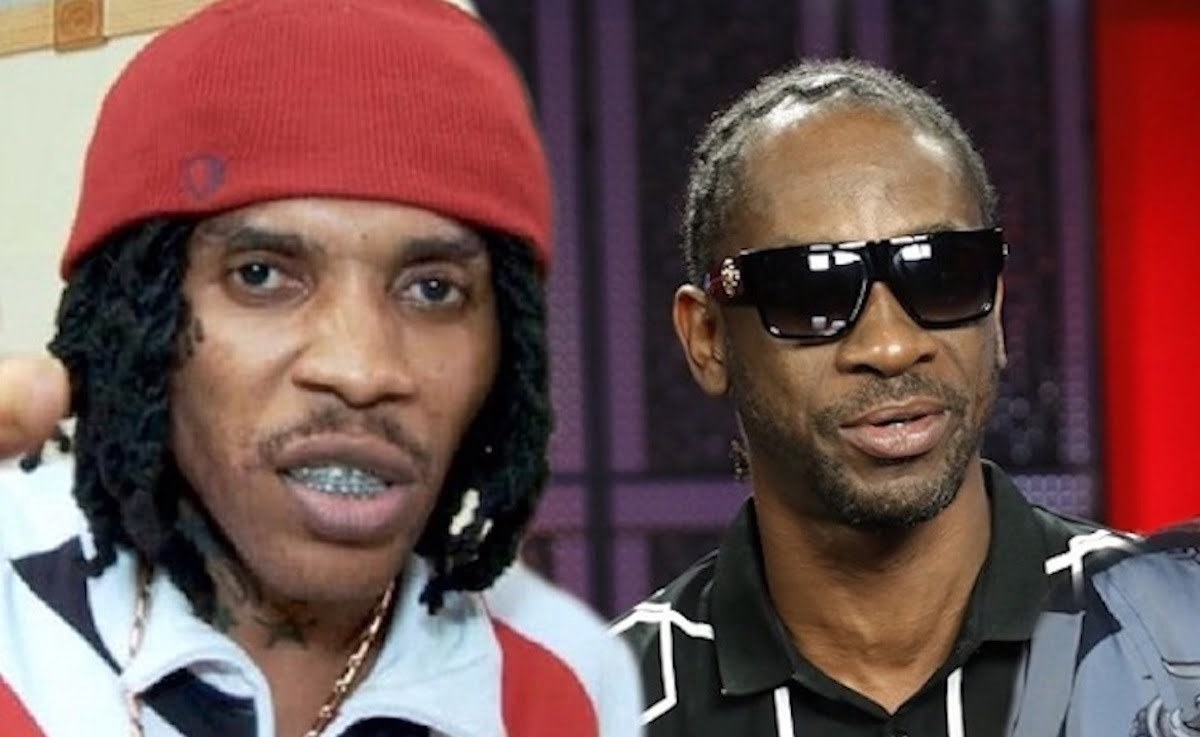 MUTABARUKA LIFETIME ACHIEVEMENT AWARD
ALLAN HOPE aka "MUTABARUKA" was the recipient of IRIE FM's 2019 Lifetime Achievement Award.
The IRIE FM Lifetime Achievement Award is awarded annually to a Jamaican distinguished by a body of work that demonstrates outstanding and exceptional leadership, dedication and achievement nationally and globally, and who has shown exceptional leadership in industry advancement.⠀
⠀
It also recognizes a Jamaican who has dedicated his/her life to a worthy cause or given to the community/nation in a major way.⠀
His taken name Mutabaruka comes from the Rwandan language Kinyarwanda and translates as "One who is always victorious".
UB40 STAR DIAGNOSED WITH BRAIN TUMOR
UB40's saxophone player Brian Travers has been diagnosed with a brain tumor and will miss the band's 40th anniversary tour. Last week he was taken to the hospital after suffering a seizure at his home. The subsequent brain scans revealed he had developed two tumors. Travers is now awaiting brain surgery and has been advised by his doctors that his recovery will take up to six months.
FULL STORY: http://reggaeinseattle.com/ub40-star-diagnosed-with-brain-tumour/
CLYMAXX AND LISA HYPER DECLARE WAR
Dancehall female deejays CLYMAXX and LISA HYPER have been exchanging shots at each other on social media. Lisa Hyper insinuated that the relationship between her and another unnamed artist had become caustic. Clymaxx clarified that she was the target of Hyper's onslaught and called her out for trying to start a feud. The animosity began when Clymaxx felt that Hyper was too expensive to book for an event she was hosting. Ever since, Hyper has been throwing subliminal jabs on social media. Clymaxx responded with a diss track.
FULL STORY: http://reggaeinseattle.com/clymaxx-and-lisa-hyper-declare-war/
STEEL PULSE NEW ALBUM TEASER 'CRY CRY BLOOD'
British reggae institution Steel Pulse has released the lead single "Cry Cry Blood" from their upcoming album Mass Manipulation. It is is the band's first album release since 2004's African Holocaust and is scheduled for May 17th.
FULL STORY: http://reggaeinseattle.com/steel-pulse-new-album/
PAMPUTTAE ACCUSES BEENIE MAN OF ATTACK
Dancehall artist PAMPUTTAE accused BEENIE MAN of attacking her while she was performing at a birthday party for Jamaica Labour Party East Portland candidate for Member of Parliament, Ann-Marie Vaz, in Portland last weekend. She told the attendees that she was almost attacked by Beenie Man at a recording studio. She claims the veteran entertainer tried to assault her with a stool after she failed to acknowledge his presence. The two have a history of animosity. Beenie Man's attorney is threatening with legal action.
FULL STORY: http://reggaeinseattle.com/pamputtae-accuses-beenie-man-of-assault/
MOBAY "HIP STRIP" RENAMED AFTER JIMMY CLIFF
Montego Bay's "Hip Strip", "Gloucester Avenue", will become "Jimmy Cliff Avenue" after an official renaming ceremony on Thursday March 28, 2019.
FULL STORY: http://reggaeinseattle.com/mobay-hip-strip-renamed-jimmy-cliff-avenue/
SLEEP IN PEACE WINSTON "BOPEE" BOWEN
It is with utmost sadness we announce the passing of legendary reggae guitarist and esteemed song writer WINSTON "BOPEE" BOWEN. He was 62. Your heart may have stopped but your beat goes on. Sleep in Peace…
SLEEP IN PEACE RANKING ROGER
Ska legend Roger "Ranking Roger" Charlery lost his battle with cancer and passed away on March 26th. He was 56. Sleep in Peace…
– New Music –
NOAH POWA – NUH SIDE MAN
POPCAAN – LEVEL UP
SQUASH – Ms. INDEPENDENT
OLIVIA FLOWERS – WHAT YOU WANT
AGENT SASCO feat. WAYNE MARSHALL – JOURNEY
DON CORLEON feat. BUSHMAN – HEAR WAH MI AH SEH
POPCAAN, DRE ISLAND, QUADA, JAFRASS – UNRULY STATE
– The Happenings: Local Reggae News –
Zions Gate Sound hosted Musical Tribute for Jeff "Soul Uno" Higashi, aka DJ SOUL ONE. Many of the local DJs came out to pay tribute include Selecta Matsui, DJ Element, ZJ Redman, and Y2K. Please consider donating to the GoFundMe page set up for the family and the two daughters he leaves behind.
Friends and family, we would like to announce the memorial services which will take place on Wednesday, April 10th at the New Holly Gathering Hall, doors opening at 5:00pm, services beginning promptly at 5:30pm. Again, our condolences going out to his family. RIP
THIS SATURDAY, March 30th is Caribbean Night at the Red Lounge! Admission $15.00; Ladies free before 11:30 get in 2 for 1.
JUST ANNOUNCED!!: COCOA TEA with Special Guests. And, we're hoping that special guest is Koffee! Which would just be icing on the cake.
NEXT WEEK is going to kick out what is going to be a fantastic month of live reggae, we have  MAX ROMEO and DUBTONIC KRU April 3, 2019 at Nectar Lounge;  JAH BOUKS at the Red Lounge on Saturday, April 6th. And, the legendary British Reggae band that is STEEL PULSE is playing at The Showbox on Tuesday, April 9th. LEILANI WOLFGRAMM with Sol Seed, Rebel Lion appearing at Nectar Lounge on April 21st . We have a lot of great shows happening in April.
MIGHTY CROWN aka "The Far East Rulaz" is coming to the Red Lounge on Saturday, April 13th. They been in the game for over 20 years, I've witnessed their sound clash, going up against some greats, they bring it every time, taking that crown. $20.00 admission 21 and over. Don't miss this!
GET YOUR TICKETS for these performances by Jamaican reggae and dancehall artists KRANIUM along with Jada Kingdom performing at Nectar Lounge on Friday, June 7th and KONSHENS performing at the Red Lounge on Saturday, June 8th. Get ready to turn up!
If you have a local reggae event, you'd like for us to include in This Week in Reggae; please contact us at info [at] reggaeinseattle [dot] com.
– Blessed Earth Strong –
This week we celebrate the Blessed Earth Strong of the following artists:
Mar 25 – Ventrice Morgan aka "Queen Ifrica"
Mar 27 – Derrick Morgan – Queen Ifrica's Father
Mar 28 – Kelissa McDonald aka "Kelissa"
Mar 29 – Michael Alexander Johnson aka "Daddy Screw"
Mar 29 – Christy Campbell aka "Admiral T"
Mar 31 – Ewart Everton Brown aka "Mad Cobra"
Mar 31 – Keith Blair – aka "Anthony B"
– This Week in Reggae Playlist –
In light of Capleton's exoneration, we dedicate this week's playlist to in his honor.
"The Truth Shall Set You Free"
– Meditation of the Week –
"Love and hate can never be friends"
-Dennis Brown –
UNTIL NEXT WEEK – ONE LOVE