Lee "Scratch" Perry aka "Upsetter" (Rainford Hugh Perry) was born on 20 March, 1936 in Kendal, a small town in the rural parish of Hanover, Jamaica. His mother had strong African traditions originating from her Yoruba ancestry that she passed on to her son.
Perry's musical career began in the late 1950s as a record seller for Clement Coxsone Dodd's sound system and later with Joe Gibbs's Amalgamated Records. He left Gibbs and formed his own label, Upsetter Records, in 1968 where he worked until 1972 with his studio band The Upsetters. During the 1970s, Perry released numerous recordings on a variety of record labels that he controlled, and many of his songs were popular in both Jamaica and the United Kingdom. He soon became known for his innovative production techniques as well as his eccentric character.
In 1973, Perry built a studio in his back yard, the Black Ark, to have more control over his productions and continued to produce notable musicians such as Bob Marley & the Wailers, Junior Byles, Junior Murvin, the Heptones, the Congos and Max Romeo. With his own studio at his disposal, Perry's productions became more lavish, as the energetic producer was able to spend as much time as he wanted on the music he produced.
By 1978, stress and unwanted outside influences began to take their toll: both Perry and The Black Ark quickly fell into a state of disrepair. Eventually, the studio burned to the ground. Perry has constantly insisted that he burned the Black Ark himself in a fit of rage.
In late 1980s, he began working with British producers Adrian Sherwood and Neil Fraser (who is better known as Mad Professor). In 2003, Perry won a Grammy for Best Reggae Album with the album Jamaican E.T.
In 2004, Rolling Stone ranked Perry number 100 on their list of the 100 Greatest Artists of All Time. More recently, he teamed up with a group of Swiss musicians and performed under the name Lee Perry and the White Belly Rats, and toured the United States in 2006 and 2007 using the New York City-based group Dub Is a Weapon as his backing band.In 2007, Perry's song "Enter the Dragon" was sampled on the track "Carrots" by Panda Bear of Animal Collective. As well, Perry was selected by Animal Collective in 2011 to perform at All Tomorrow's Parties, which the band curated in May 2011. That same year, he recorded Rise Again with bassist and producer Bill Laswell; the album featured contributions from Tunde Adebimpe, Sly Dunbar and Bernie Worrell, and was released on Laswell's M.O.D. Technologies label.In 2008, Perry reunited with Adrian Sherwood on The Mighty Upsetter. Between 2007 and 2010, Perry recorded three albums with British producer, Steve Marshall. The albums featured performances by Keith Richards, and George Clinton. Two of these albums, End of an American Dream (2008) and Revelation (2010), received Grammy nominations in the category Best Reggae Album.
In 2009, Perry collaborated with Dubblestandart on their Return from Planet Dub double album, revisiting some of his material from the 1970s and 1980s, as well as collaborating on new material with Dubblestandart, some of which also included Ari Up of the Slits. In 2008, leading up to this release, Perry's first foray into the dubstep genre was released on 12″ vinyl, a collaboration with Dubblestandart and New York City's Subatomic Sound System called "Iron Devil". That record was followed by several more reggae-oriented dubstep collaborations with Dubblestandart and Subatomic Sound System on digital and vinyl, first Blackboard Jungle volumes 1 and 2 (2009), featuring dancehall vocalist Jahdan Blakkamoore, then Chrome Optimism (2010), which also featured American filmmaker David Lynch.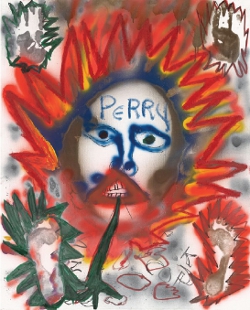 In 2010, Perry had his first ever solo art exhibition at Dem Passwords art gallery in Los Angeles, California. The show, titled "Secret Education", featured works on canvas, paper, and a video installation.
In 2012, Perry teamed with the Orb to produce The Orbserver in the Star House, which was recorded in Berlin over a period of several months. The album earned critical acclaim, and featured the single "Golden Clouds", named after the historic property located near Perry's hometown in Jamaica. The recording sessions were filmed by Volker Schaner and were part of the documentary Lee Scratch Perry's Vision of Paradise.
In August 2012, it was announced that Perry would receive Jamaica's sixth highest honour, the Order of Distinction, Commander class.
In 2013, Perry performed at the first Dub Champions Festival in Vienna, a sold-out performance, backed by Dubblestandart with Adrian Sherwood handling the dub mix. Perry also performed at the first two Dub Champions Festivals in New York City in 2011 and 2012, backed by Subatomic Sound System. Perry performed at the 2013 Coachella Valley Music and Arts Festival in Indio, California.
Perry is featured as the DJ on the dub and reggae radio station "The Blue Ark" in Grand Theft Auto V. The station includes a number of dubs by Perry and the Upsetters including "Disco Devil" and "Grumblin' Dub".
In October 2013, it was announced that Perry will be awarded a Gold Musgrave Medal later that month by the Institute of Jamaica. 2014 saw the release of the album "Lee "Scratch" Perry – Back on the Controls" which would receive a Grammy nomination later that year.
In September 2015, Perry and Subatomic Sound System launched a 40th anniversary tour for Perry's 1976 album Super Ape. The tour began as part of Dub Champions Festival and continued over the next two years with more than 50 dates in North America and some isolated dates in Europe. Nearly every show was sold out on the 2015 and 2016 tours. It culminated with the release of the Super Ape Returns to Conquer album in September 2017 which debuted at number 2 on iTunes US reggae chart behind Bob Marley's remastered Legend album, and on number 3 on the Billboard reggae chart. Larry McDonald performed as part of the band and on the recorded album. A Kickstarter campaign was organized in 2015 by Emch of Subatomic Sound System to raise funds to build a custom 15-foot-tall gorilla similar to the one on the original album cover art. The Kickstarter campaign reached its goal and the gorilla appeared on stage during 2015 and 2016 tour dates.
In October 2018, Perry and Subatomic Sound System launched a 45th anniversary tour for the 1973 album Blackboard Jungle Dub, produced by Perry. The tour began in North America and tour posters includes the tag line "World's 1st dub album, Live for the first time". Rolling Stone published a preview of the tour.
2019 saw the release of The Revelation of Lee "Scratch" Perry, a film about the making of his 2010 album Revelation, directed by Steve Marshall for State of Emergency. The film features intimate behind the scenes footage of Perry at work in his home studio in the Swiss alps and an in depth interview.
Lee 'Scratch' Perry passed away on 29 August 2021 at the Noel Holmes hospital in Lucea, Jamaica, from an unspecified illness, aged 85.
Rest In Peace… Zion trod