It all began one afternoon in 2014, when Bob and Rita Marley's daughter CEDELLA MARLEY was handed a flier by her son, SKIP, after school. The flier was from Skip's soccer coach, and asked parents to donate money to revive the Jamaican women's soccer team.
She took it upon herself to make a few calls and was frustrated to learn that Jamaica's soccer federation had cut the funding for the women's senior national team, that could represent the country at the Olympics or the Women's World Cup but not the funding for the men's team.  She made some more phone calls and then decided to fix it, by herself with the help of a few dozen determined players against serious odds.
When asked if she was at all surprised to hear about the decision to get rid of the women's team, Cedella said:
Coming from Jamaica? Not really. I think they would like to see girls in bathing suits and tennis skirts versus cleats and soccer gear.
In spring 2014, with qualifying for the 2015 Women's World Cup in Canada, the initial goal was to simply exist. THE REGGAE GIRLZ were not even ranked by FIFA as they had not played a real game in years. Cedella donated her own money but also tried to create a buzz around the team, largely by releasing a song, "Strike Hard," featuring her and her brothers, Stephen and Damian and forming an Indie-gogo campaign that gave the team just enough money to re-form.
The players did their own laundry. They rode in rickety vans. They practiced for a day or two on one weekend, then broke for a few days so many of the players could work at their jobs before regrouping the next weekend. Even the common practice of exchanging jerseys after international matches had to be abandoned.
Despite it all, the team didn't play badly that summer. The Reggae Girlz dominated tiny Martinique 6-0 before losing a tight match to Costa Rica, and they even led Mexico in the qualifying tournament's final group stage match before being eliminated in a 3-1 defeat. The next summer, in 2015, the team tried and failed to qualify for the 2016 Rio Olympics. In 2016, the Jamaican federation disbanded the team again.
Cedella simply redoubled her efforts, pushing for a complete culture change within Jamaican women's soccer. She sought and found financial support from wealthy donors. Then she identified Hue Menzies, who gave up a career in corporate finance to become a full-time soccer coach, to lead the re-formed team. He did not hesitate.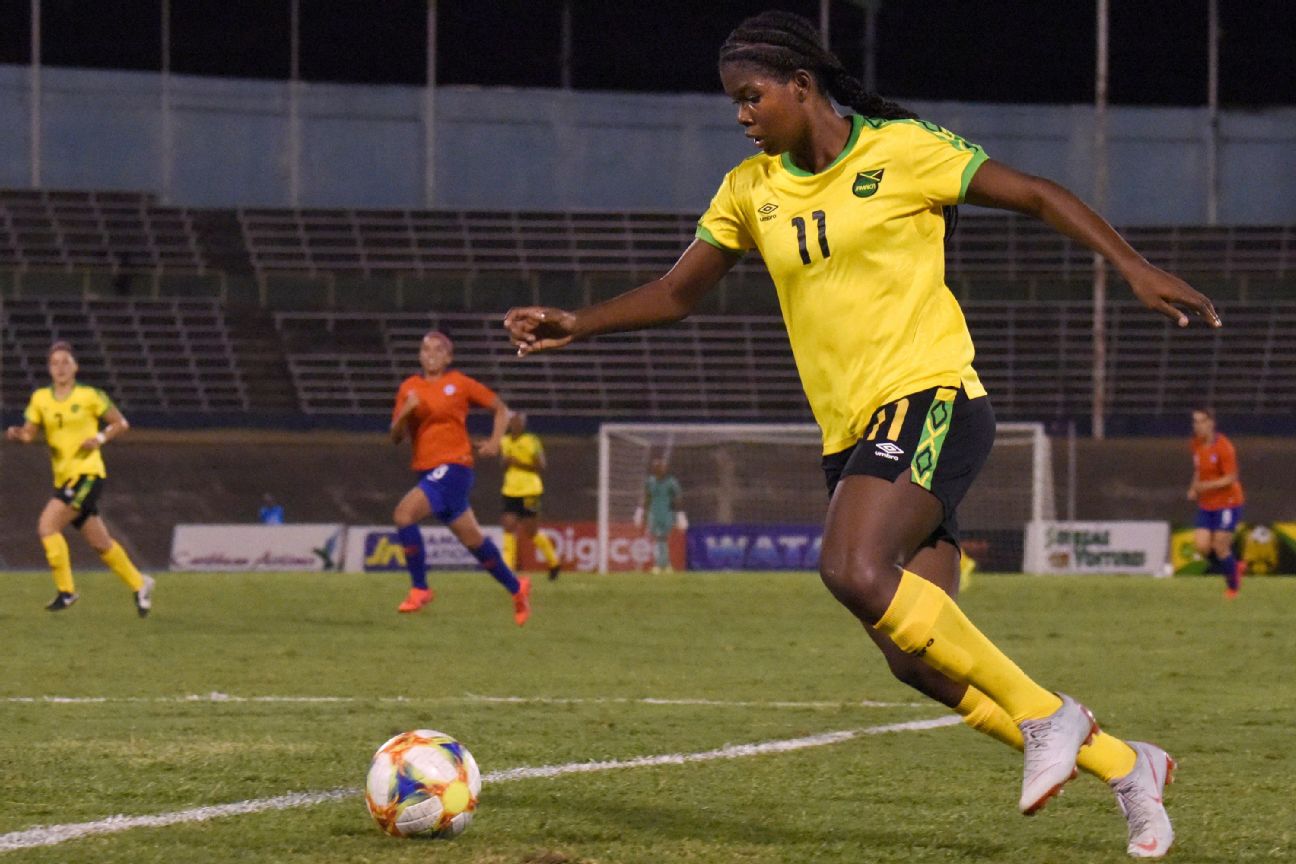 Unlike the 2014 reboot, when she traveled to most of the team's games and thought it was important to be visible, Cedella stepped back to show that the Reggae Girlz could stand on their own without the Marley name. In their first qualifiers, staged in Haiti and against teams from the Caribbean region, the Reggae Girlz had a clear talent advantage but were (literally) weakened by a lack of food. The spreads provided to the team at the hotel were sparse and largely inedible. Several players came down with food poisoning symptoms almost immediately. Hungry and underhydrated, Jamaica pushed through to the CONCACAF Women's Championship.
Those games were in Texas against top-tier teams, including the United States, Canada and Costa Rica. Jamaica beat Costa Rica and Cuba before a loss to the United States set up a winner-take-all game against Panama. Victory meant qualification for this summer's World Cup in France. The game was played just north of Dallas on a chilly night last October. Cedella resisted the urge to go to Texas for the match and ended up not watching most of it, choosing instead to calm her nerves by doing yoga and meditation in the garage.
The contest was wrenching. Jamaica led in regulation only to give up a late goal that sent the match to extra time. The Reggae Girlz scored again, but Panama tied it at 2 only minutes before the final whistle. There would be a shootout.
That was when Cedella came in from her garage. She watched as substitute goalkeeper Nicole McClure made two critical saves to set up Bond-Flasza for the potential game-winning kick. When the ball rippled the net, Cedella, in her own words, "hit the floor." To celebrate, the Reggae Girlz feasted on cookies at the hotel that night while in Florida, Cedella's phone wouldn't stop ringing. She said "it was like an out-of-body experience."